Welcome...
As one of the originators of Intuitive Eating, I feel blessed to be involved in the profound paradigm shift that is taking place in our modern culture. The world is beginning to move away from the diet mentality and move into this gentle and healing world of Intuitive Eating.
In the many years that I have been helping people return to the Intuitive Eating wisdom with which they were born, I have found that the concepts integral to Intuitive Eating can also be applied to most other aspects of life. Listening carefully, whether it is to our own internal wisdom or to the important thoughts of others, deepens our life experiences. It allows us to slow down and be present for all that life offers us. As we listen, we begin to notice the nuances of events and to go more deeply into the inner meaning of life.
I have included some representative concepts on this site under the "Intuitive Eating" tab, as well as some personal ideas of my own that have developed since the publication of the book. Also, you'll discover some intimate 'Words of Wisdom' I have garnered during my many years of life, including some of my favorite and most helpful thoughts for managing life and overcoming obstacles to healing.
As staying current with available resources and references remains one of the most important benefits of the internet, I have assembled a select few under "Resources" that I hope will prove helpful for you. I am also including a few articles I have written, my bio, a list of my counseling services, and where and how to contact me.

History of Intuitive Eating Publications
The original edition of Intuitive Eating was published in 1995, followed by a second edition in 2003. The third edition was published in 2012. And what is now the most exciting edition, which honors the 25th anniversary of Intuitive Eating, is the 4th edition, released in June, 2020. It has been thoroughly edited and updated, deeply addressing weight stigma and the dangers it holds for all who are subjected by it. The chapter on bringing up kids and teens as Intuitive Eaters now includes a section on "Baby-led Weaning", or Intuitive Eating for babies. The chapter reviewing some of the scientific research that has been conducted on Intuitive Eating has been extended. At this point, we have over 120 scientific studies validating Intuitive Eating as an evidence-based process!
An audio version of Intuitive Eating was released in 2009 by Sounds True, Inc. This version is not a verbatim reading of the book but is a discussion format between Evelyn Tribole, my co-author, and me and presents many new thoughts about Intuitive Eating, along with one or more guided practices for each of the principles. You will find that this audio version will extend your understanding of how to rediscover your inner Intuitive Eater. Enjoy!
To add to the written and audio books, The Intuitive Eating Workbook was published in 2017. This workbook is a stand-alone book. This means that even if you have not read Intuitive Eating, the workbook will teach you all about it, as well as offer you a multitude of thought provoking exercises, which will challenge you along your Intuitive Eating journey.
You can click here to order a copy of the book or audio book from Amazon.com or from Gürze-Salucore Eating Disorders Resource Catalogue (800-756-7533, www.edcatalogue.com) or the audio book from the publisher, Sounds True at www.soundstrue.com (version available for download to mp3 players).
And now, I am thrilled to tell you about the newest addition to Intuitive Eating. I have written an Intuitive Eating Workbook for Teens, which was released in April 2019. You may think that this workbook isn't for you, if you're not still a teen, but I think that everyone will love reading it. It presents the Intuitive Eating principles in a deep but accessible way, unique to this book, and, anyway, don't we all still have our inner teen living inside of us! It can bring you back to your teens, when your eating issues may have begun. If you know any actual adolescents, this workbook will help them resist diet culture and the culturally thin ideal that draws them into dieting and increases their risk of developing disordered eating or a life-threatening eating disorder.
And, in the works, is an Intutive Eating Journal book, which I am in the process of writing, and which will be published in 2021. Keep your eyes open for it. So, the journey continues.....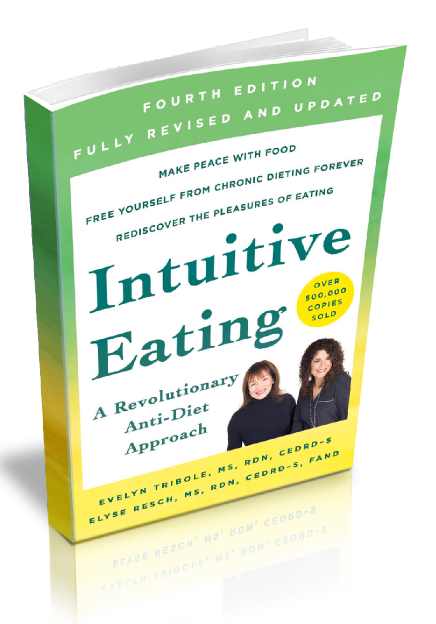 (click left side of books above to order at Amazon,
or click right side to order at Barnes & Noble)
A WEALTH OF INFORMATION IS AVAILABLE FROM INTUITIVE EATING PUBLICATIONS